Amazon generated $469.8 billion in revenue in 2022, and sellers do everything they can to ensure they get a piece of the action.
Amazon product research is a crucial element of success on the world's biggest and most lucrative e-commerce platform. It entails collecting and analyzing data about Amazon products. This information allows sellers to find low-cost items with relatively low competition to generate high revenue. They can source these products and list them on their storefronts to generate long-term profits.
Product research is vital for successfully running a business on Amazon. It takes the guessing out of the game and provides much-needed actionable data instead. This enables sellers to understand what customers are looking for and verify or forecast which products will be more profitable in the near future.
This guide has everything you need to know about the best Amazon product research software to help you stay ahead of the curve!
Top Amazon Research Software
Conducting product research is a key element of succeeding as an Amazon seller, and there are several tools on the market to assist with that. It can be overwhelming to select the most appropriate and efficient tool amongst the plethora of options.
Finding the right tool is incredibly important, but sellers often struggle with this and end up investing a lot of money in software that they can't make full use of.
To ensure that you don't have to risk your money on something that won't work for you, we've compiled a list of the top Amazon product research tools to help you get started:
AMZScout
AMZScout is the top pick amongst the most popular Amazon product research tools, as it offers many extremely useful tools that allow sellers to select the right products to sell.
Amazon sellers can access the following features and resources with AMZScout:
PRO Extension
Product Database and Product Tracker
Keyword research tools, including keyword search, tracker, and reverse ASIN lookup
Trends and product ideas for over 1000 exclusive Amazon products and 12 monthly trend reports
Learning opportunities, including seller courses and business guides
Competitor data analysis that provides insights into stock stats
Here are some things that make AMZScout a stand-out option:
Affordable prices – Amazon Seller's Bundle costs just $49.99 per month or $399.99 per year
Accurate data
Tools for different sales models – private label, wholesaling, arbitrage, dropshipping, etc.
SellerApp
SellerApp has various features that can be quite helpful when running an Amazon business. However, it is not solely focused on product research. This can make it less appealing for sellers who only want streamlined software for product research.
Though it is affordable, starting at $39, SellerApp doesn't offer extensions and lacks deep analytic features.
Jungle Scout
Jungle Scout's plans range from $29, $49, and $84 per month, with the option to be billed annually. This is in the more expensive range compared to other Amazon tools. However, its deep analytics tools may be worth the cost to some sellers.
Helium 10
Helium 10 is another extremely popular Amazon research tool, but mainly amongst seasoned sellers. This is because it can be difficult for beginners to navigate and use. And when combined with their expensive pricing plans, it's not the most appealing option available today.
Tips for Choosing the Best Amazon Product Research Tool
To evaluate a product research tool, you can sign up for software free trials. You must think about which is most efficient before spending money on a service.
Here are some tips to help you make the right decision:
Opt For Data-driven Software
When choosing the best tool for Amazon product research, your primary focus must be the volume and accuracy of data it can generate for you. Look for tools that provide information on various elements of an item, such as sales, demand, and competition.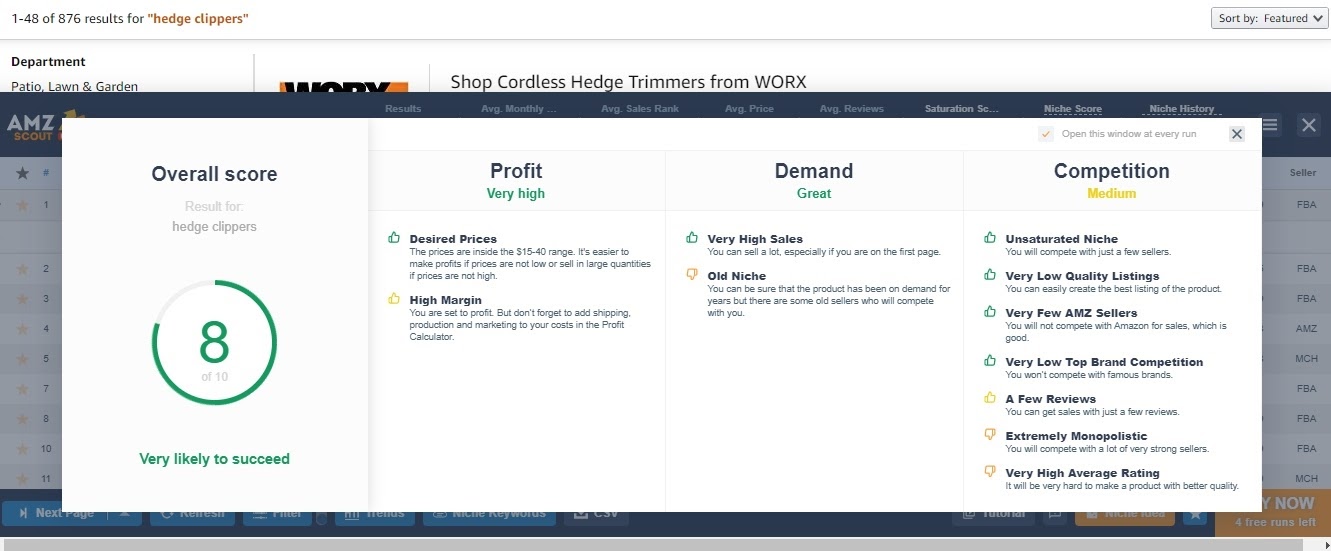 Look For Keyword Research Features
A huge factor in the success of an Amazon business is the effective use of keywords and listing optimization. You can conduct all the necessary research and source all the right products. However, unless your keywords can generate leads and draw potential customers to your listings, your revenue and sales will not reflect the work you've put into your business.
Look for robust keyword research features to ensure your product research efforts are well-spent.
Do Not Spend Too Much Money
If you're just getting started, do not spend too much money on any software. You may find out later that it's not as effective or necessary as you initially thought, and by then, it will be too late to get your money back.
Instead of wasting capital on software and tools from the get-go, make the most of free trials to see what works for you before you subscribe to expensive paid plans.
Finding the Best Amazon Products to Sell: Key Elements To Look For
Product research tools provide crucial insights and data regarding Amazon market trends and product sales. It's essential to know how to use this data and make the most of the product research to select the products that will generate tons of revenue.
Here are some criteria that will help you source, stock, and sell products that will fly off the shelves:
High demand
Healthy profit margins
Low seasonality
Low competition
No legal risks
Preferably small in size
Preferably lightweight
Some additional criteria that hint towards a good product includes:
Minimum 10 sales a day
Top 3 related keywords with over 50,000 monthly searches
Multiple related-keyword opportunities
Quick and convenient sourcing
Sturdiness
Encourages recurring purchases
Conclusion
Amazon product research will help you predict which items are more likely to be popular with your target audience and market niche. This is extremely helpful in ensuring that you are able to source and sell products with a higher likelihood of success.
Therefore, a good product research tool can be very beneficial in running a successful Amazon business. These four options are an excellent place to start—evaluate their pros and cons and explore their functionality before you invest in the one that suits your needs!